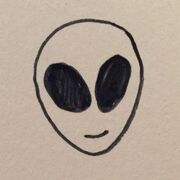 "
I LIED CATCH AND RELEASE IS SEPT 24TH YHATS HILARY AND MES EPISODE"
The creator of Lapis Lapizza. She is an alien (but not really) and has a necklace made out of Lapis Lazuli. She loves Lapis Lazuli to an unhealthy degree and likes to draw her being a schoolgirl, swag or super sexy. She also loves Peridot but didn't show any of her Peridot drawings because of spoilers.
Zuke once lied to a cashier about watching Steven Universe so that the cashier would go out with her.
She made that the fandom think that Lapiss Lazuli would appear in "Catch and Release", but she also lied to the entire fandom about the episode's air date, which indirectly comfirmed that she is Yellow Banana.
Trivia
She is the only member of the Crewniverse with the surname "Zuke".
She wants the Lapibooty.
Catch and Release is her favourite episode ever, ever , EVER, EVER!
She plays World of Warcraft
She can't spel or GraMMeR?
She is a lying panda
Ad blocker interference detected!
Wikia is a free-to-use site that makes money from advertising. We have a modified experience for viewers using ad blockers

Wikia is not accessible if you've made further modifications. Remove the custom ad blocker rule(s) and the page will load as expected.