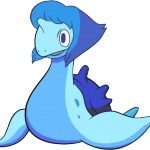 The founder of this glorious wiki and the Lapras legacy. She is the one true master of memes and glorious puns. In real life she is a dragon, but on wikia she is a Lapras recolour with the same hairstyle as Lapis. She is obsessed with Lapis (which is why she made this wiki) and when she fuses with
AceArcherAragonite
 they become Laprass.
Trivia
She made a song reference and got a plaque for it
She typically has several different songs stuck in her head
She broke the rules and learned scald
She is a intelligentce©
She won the hunger games.
Ad blocker interference detected!
Wikia is a free-to-use site that makes money from advertising. We have a modified experience for viewers using ad blockers

Wikia is not accessible if you've made further modifications. Remove the custom ad blocker rule(s) and the page will load as expected.