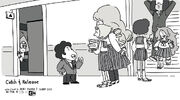 The Gem High School Promo Art is drawn by Hillary Florido to promote the episodes she storyboarded. It's an AU in which Steven is the principal in a High School attended by characters from the series. The AU versions of the gems are shown to not have their gemstones and are therefore presumably human.
Trivia
Ad blocker interference detected!
Wikia is a free-to-use site that makes money from advertising. We have a modified experience for viewers using ad blockers

Wikia is not accessible if you've made further modifications. Remove the custom ad blocker rule(s) and the page will load as expected.