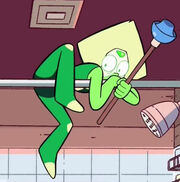 Catch and Release is the 70th episode of Steven Universe and was storyboarded by Hillary Florido and 
Lauren Zuke
. The episode starts with Steven getting ready to sleep by saying goodnight to all his plush toys with the addition of an "
Omnious Triangle
". The 
triangle
 turns out to be 
Peridot
 rather than the 
Illuminati
. 
Peridot
 kidnaps Steven to get him to fix the Homeworld warp but his healing powers don't work and 
Peridot
 starts to have a breakdown ;~; poor Peri ;~;
The Crystal Clods find Steven and Peridot and Garnet poofs poor Peridot ;~;
Steven later frees her from Garnet's bubble and she turns out to be a smol cat.
After trying to escape, Peridot hides in Steven's bathroom where hilarity ensues. She also grabs a blue plunger which comfirms Lapidot.
Trivia
AceArcherAragonite lost count of how many times she's watched this episode.

It is her favourite episode.
She knows every line.
She says all the lines at the same time as the characters when she watches it.